Finders Seekers' IT talent sourcers Roosa & Sami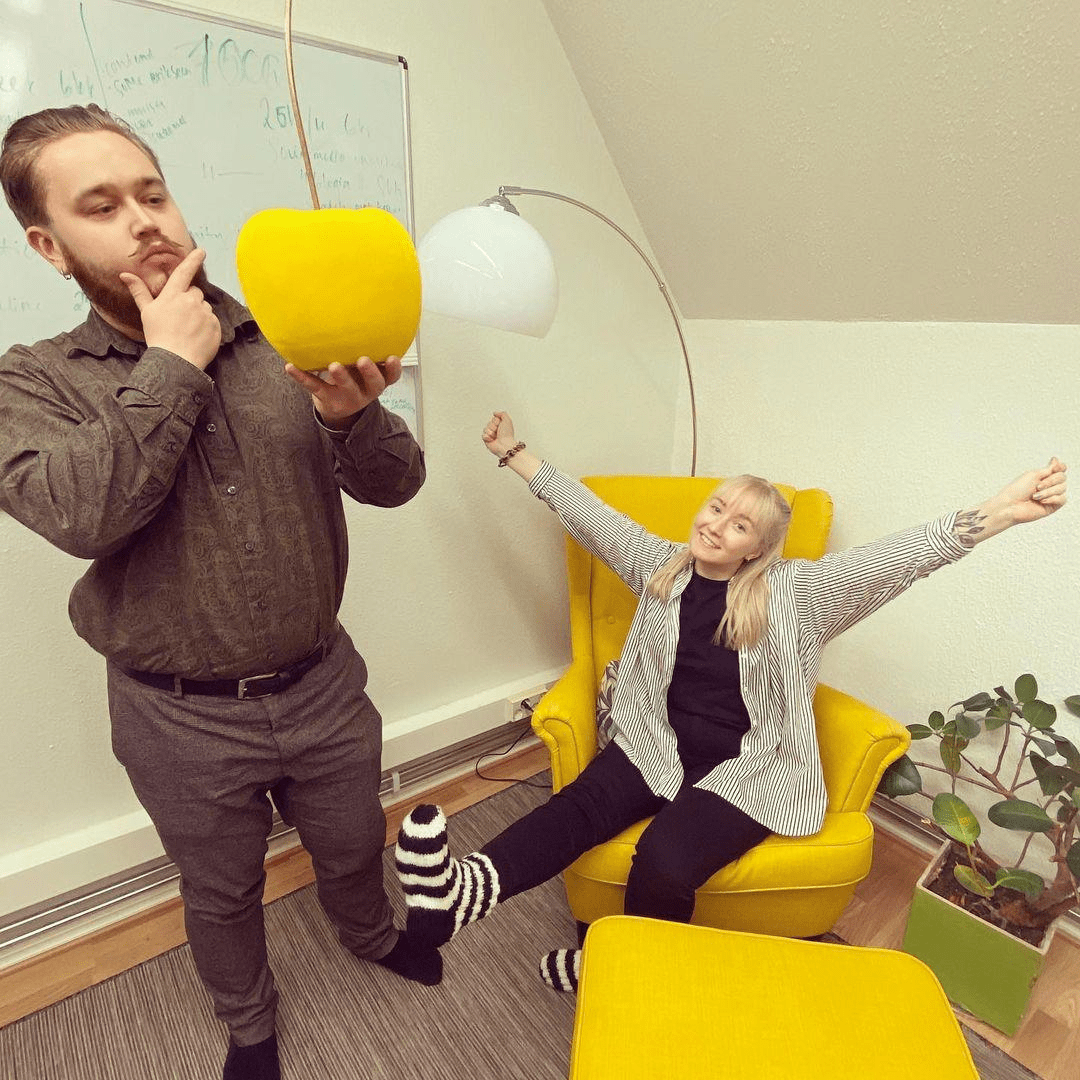 Two new IT talent sourcers joined Finders Seekers in January 2020: Roosa Holkko and Sami Ranta-aho. Who are they and how have they found the Finders Seekers vibe so far? Get to know them a little better and find out how they're getting on below…
Roosa 
👩‍🎓 I graduated from Haaga Helia a few years ago with a Bachelor of Business Administration; during my studies I got hooked on recruitment after a work placement. First, I spent a few years working as a recruiter at IT firms, and then I felt like it was time to further develop my skills… cue Finders Seekers :)

💡This IT Talent Sourcer role is ideal for where I am in my career; I wanted to develop my headhunting and executive search skills, and this role allows me to 100% focus on these! I had had my eye on Finders Seekers for a while, and I felt like the culture and the team were really aligned with my own goals and dreams! And let's just say that so far it seems like dreams really do come true. 🥰
🎨 During COVID-19, I have been 'forced' to find loads of new things to do at home during my spare time; things like painting, knitting, macrame, and other sorts of crafting. I also like to go to the gym and before the pandemic hit I got to try out two new sports: pole dancing and aerial acrobatics.. 🤸🏼‍♀️
Sami
👨‍🎓 I am in the final stages of getting my BBA in International Business from Haaga-Helia; I specialize in HR and management. Even though I had no prior experience in IT recruitment, it's been a clear career goal of mine throughout my studies.
💡I got to know Finders Seekers towards the end of my degree; I heard about their offering as part of a coursework project I was working on that involved the company. I remember sitting in the lecture hall during the first class and listening to the intro to Finders Seekers and thinking "I want to work there". I instantly connected with the Finders Seekers mission; building winning teams is something I've always been passionate about, and it's something I  championed at various student organizations throughout my studies. After that initial Finders Seekers taster I kept tabs on the company, and the IT Talent Sourcer job opening at the end of last year turned out to be the golden ticket that I had been dreaming of.

🎸 My favourite past-times strongly revolve around music and food. I have played the guitar for over half of my life and these days I am a singer and a musician in an acoustic duo. I am also an enthusiastic homecook, and I am constantly challenging myself to try new recipes. I also dip in and out of actively going to the gym, though due to the pandemic I have switched the gym for jogging. 
What was your first day like?
Pretty nerve-wracking; I had a lot of butterflies and my nerves were made worse by the fact that there was a huge snowstorm that meant I had to walk to the office rather than take the bus… Once I got to the office we sat down over a morning brew, made sure I had all I needed to get going, opened all my user accounts, and generally I just spent the day getting to know the ropes. I instantly felt really welcomed and at-home; there were welcome messages all over the office and I got to instantly meet people in my first meeting, even though most people were still working remotely. 💛
The main thing I remember from my first day is how short the day felt. In my excited and keen state, I completely lost my sense of time! The day was perfectly balanced, leaving me plenty of time to settle in and get to know my new working environment. Most of the Finders Seekers team were present at the joint lunch meeting Roosa mentioned, and everyone seemed genuinely excited to meet us newbies!
What has your induction process been like and how is it going?
The first two weeks were purely reserved for on-boarding. We were thoroughly introduced to all aspects of the IT Talent Sourcer role, starting with the basics like the toolsets we would be using, the Finders Seekers recruitment process, how the recruitment team functions, the IT industry, and the talent market in general. There was so much new information to take in, but the induction process was broken down into bite size chunks, giving me plenty of time to process what I was learning. There were also enhanced induction sessions scheduled in around my first recruitment assignment, allowing me to learn while I was reflecting on the task at hand.
I loved my induction! Even though the team is new, there was a really clear and thorough induction process that also involved getting to know the wider team, making it easy to get a sense of the bigger picture.
Our first client cases came into the picture after the first few weeks; it was great to get down to business, and I always learn best on the job anyways. It has been nice to notice that as a team we get to keep on training together, so it doesn't look like induction will be limited to the first six months either :)
How have you settled in at Finders Seekers?
It feels like I have known the team for longer; everyone is super nice, helpful, funny, and everyone can genuinely be themselves. I also thought it was great that Sami and I started on the same day, so we've been able to rely on each other for support when it comes to all the new things. I would describe the company culture as just a little bit wild (in the right way) and safe. 🤠 One of my personal faves was the kick-off day, where I had some much fun that I think I got home after six in the morning… Well, there was a lot of important stuff to go over and learn! Looking forward to the next one already…
I think us settling in at Finders Seekers is best exemplified by the two-day spring kick-off that went down during our first week at the company. The kick-off was all about retrospectively looking back at 2020 as a team, ideating for the coming year off the back of 2020, scoping our KPIs for the first quarter, and reflecting on Finders Seekers's values and what it means to be part of the company. The conversations were really honest, and it was great to see that even as 'newbies' our opinions were immediately taken into account and we were listened to and taken seriously. The way that people spoke about our values made it really clear to me that our values (ones I am totally aligned with), were genuinely embedded into everything that we do; our values come from the way that we work, rather than the other way around. Once that became clear, it was obvious to me that I was exactly in the sort of team and working environment I had always dreamed of being in.
How have your first client projects gone? What have you learned during them?
In the beginning of our third week at Finders Seekers we were able to finally get stuck in when we started our first executive search projects with real clients. The first day of sourcing was still supervised, with an in-depth induction of our recruitment tools in action, but we were on our own soon after that.
The most important thing that I have learned is probably the fact that it's very important to have a detailed job specification in order to nail a hire. Even though some of the technical elements of a role may change as a project develops, daily tasks have to be clear from day one so that candidates can be accurately matched up with the role. These are also naturally the things that the candidate is most interested in. 
My first work projects have been interesting and challenging in a good way. A few of my biggest lessons have been around how to best schedule my work, and I have also picked up on some good tips and tricks when it comes to communicating with potential candidates. The clients have been fantastic and it's been a real privilege to work with such a wide range of interesting companies and get to know more about them.
👉 Get to know Roosa and Sami over on LinkedIn.
💡 Is your team short of a key player? Our sourcers will happily help you with your headhunting needs! Get in touch with Lassi: lassi@findersseekers.io.